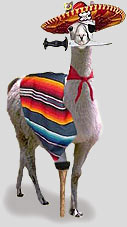 Have a question for Quatloos?
Ask
Tony-the-Wonder-Llama
Bangladesh languished at the bottom of the rankings - as it did last year - with a score of just 1.2 points, making it the country perceived as the most "highly corrupt". * * * Nigeria remained just one place ahead of Bangladesh with 1.6 points, up from 1 point last year. ~ Transparency International, 2002 Report on World Corruption.
To learn about this scam, go to our main Quatloos! Nigerian 419 Scam page.
Nigerian 4-1-9 Forums - Open discussion forum about advance fee fraud, such as the Nigerian 4-1-9 scam. This forum is open to the public