Not about internet fraud, but about an American right I use daily here "for effect" and to follow and inform you about the case of Sam Seder.

First, a little of my history here. I started posting pretty normally, but soon found Dove's NESARA stuff so silly I couldn't resist pretending it was true and then taking that to its logical end. So, I invented "Deep Knight," originally an agent of the New World Order undercover with the "White Knights" who were working to announce NESARA and UPS everybody $billions in gold. For example, when she noted that St. Germain would suddenly appear from thin air to give some government official some spine and move the announcement forward, I had the same scene with the official getting a heart attack from the surprise, thus delaying things instead. You get the idea. This morphed into Deep Knight simply being an evil agent of the Illuminati, partly due to Dove herself. She revealed that Quatloos was an Illuminti mouthpiece, and that I was working for Military Intelligence out of Ft. Benning, GA. I, of course, confirmed these immediately, and started to riff on this. Dove also called me "perverse" and I took that to be in a sexual way, mostly because of 60's secret agent movies like James Bond. You know, Bond gets in a jam, has sex with some woman, and comes out smelling like a rose. Great work if you can get it. Combined with Dove's penchant for impossibly-big numbers (in her case, in dollars, in mine, supermodels), Deep Knight suddenly had millions of 'em, which of course required lines, conveyor belts, and a suspension of disbelief to maintain this impossible "piece rate."

Add to this the fact the the person who is really Deep Knight is both silly and uninhibited, and over the years you get thousands of statements that taken in or out of context look really bad. Terrible, indefensible things. I mean, Deep has killed thousands of innocents callously, often using their hideous deaths as a prop for some sick joke. Even worse, he's promiscuous (technically "loose," Playboy's Unabashed Dictionary more-accurately defined it as "having more sex than you do," which in his case holds for the populations of Wyoming and Montana combined), and his prose about this degrades both of the sexes and several species of animals.

What does this have to do with vineyards in Greenland? Sam Seder got into trouble for the following:
In 2009, many mainstream voices, notably Washington Post columnists Anne Applebaum and Richard Cohen, defended Roman Polanski against rape accusations, arguing that he was the victim of judicial misconduct and noting that the victim (who was 13 years old at the time of rape) had forgiven Polanski. The broader defense of Polanski, in Hollywood and beyond, also seemed partly out of respect for the director's artistic genius. Thus, Seder tweeted: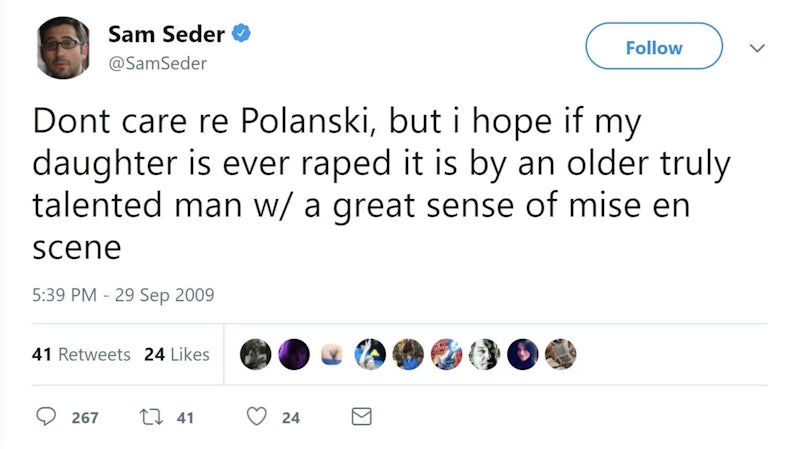 [Never having took a class in film, I had to look up mise en scene which is "the process of setting a stage, with regard to placement of actors, scenery, properties, etc."]
Seder's tweet is clearly a sarcastic jibe directed at Polanki's apologists. But Cernovich and his allies ginned up a controversy, writing to advertisers at both Seder's podcast and at MSNBC. The campaign against Seder was clearly done in bad faith ... Corporate fear prevailed, and MSNBC cut ties with Seder.
https://newrepublic.com/article/146117/ ... ree-speech
That was 2 days ago. But this story has a happy ending (I love those), as just today:
... Sam Seder will be offered his MSNBC contributor job back and plans to accept, according to multiple MSNBC sources.
Seder and MSNBC were set to part ways when his contributor contract expired next year, with reports indicating the departure had to do with a 2009 tweet from Seder surfaced by the ... Mike Cernovich. After initially caving in to ... internet outrage over the tweet, MSNBC reversed its decision to not renew Seder's contract.
"I appreciate MSNBC's thoughtful reconsideration and willingness to understand the cynical motives of those who intentionally misrepresented my tweet for their own toxic, political purposes," Seder said in a statement to The Intercept. "We are experiencing an important and long overdue moment of empowerment for the victims of sexual assault and of reckoning for their perpetrators. I'm proud that MSNBC and its staff have set a clear example of the need to get it right."
"Sometimes you just get one wrong," said MSNBC President Phil Griffin in a statement to The Intercept, "and that's what happened here. We made our initial decision for the right reasons — because we don't consider rape to be a funny topic to be joked about. But we've heard the feedback, and we understand the point Sam was trying to make in that tweet was actually in line with our values, even though the language was not. Sam will be welcome on our air going forward."
Kudos.