SwissIndo : The Scam Exposed
These two videos may "lay to rest" an apparent scam out of Indonesia.
This little scam has been popular amongst New Agers for many months, and especially those who fell for the OPPT scam last year. A few months ago, SI's Mr Sino began hovering up some of the more vocal OPPT supporters by offering them roles as "delegates" within his organization.
I understand they were promised $1.2 million each for their help. But no money was offered upfront, it was said to come: "sometime in the future." No one has yet seen any money - but S.I. did manage to pull off a sort of PR coup last month: a Global UN / SwissIndo conference - which proved to be a great photo opportunity.
I am not at all sure that the UN had even the awareness of this even, though it seem to be a prominent part of the branding, and in many of the photos. Those who attended the conference are still pumping out videos showing how wonderful it all was.
Mr Sino has claimed for over one year. that he controls some truly massive amounts. The impossibility of his money claims was addressed in a Video published on April 3rd: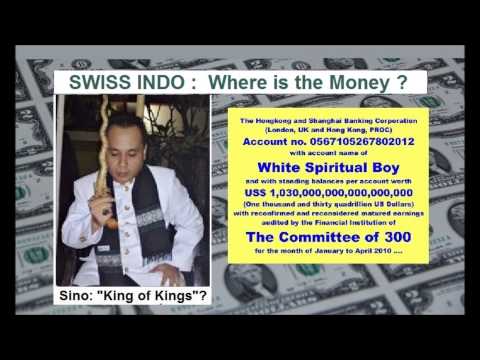 Swiss-Indo : Where is Mr Sino's Money?
/
https://www.youtube.com/watch?v=emHsHtqjTek
/
Description:
Come on, dear people. I want positive change too. But I don't want to be overwhelmed by fantasy. Look into the facts. Run the numbers. And it is very obvious that Swiss-Indo does not have the money that it claims. Let's stick to reality, and move the world forward in truly positive ways.
The video has attracted over 240 views so far, and some interesting comments from all over the world. In fact, one of the comments from a poster in Indonesia led to a second video:
Swissindo: Foreign delegates, are they "window dressing"?
/
https://www.youtube.com/watch?v=XjV2fjVtoQM
/
This one solves the Mystery of Swissindo - which is:
WHAT DOES MR SINO GAIN by promising to give away huge sums of money to people all around the world? As it turns out, the answer was found within Indonesia itself.
Here's an excerpt from a YT comment from a poster located within Indonesia:
"The (news) report says they are taking money from people selling promises that they will get huge amount in return. As far as I know, there is no money. Sino probably has managed to get some money, I honestly don't know. There is no news about him in local TVs nor newspapers that I know of. If he really is what he says he is, there should be headlines everywhere, eh?

The Soekarno treasure scam has been going on in Indonesia for years. That include things like burried gold, bank certificates (oh and Swiss is the favorite, of course), people claiming that they hold the "key" etc. There is always a mystical background because Indonesians believe in such things and Soekarno is to many, many Indonesians a mystical figure.

Many many people have lost their money, and believe it or not, including a couple of my friends with university degrees. It's not difficult to imagine that a whole bunch of people will easily fall for that. Alas, people are desperate. So sad."
And this is from the Video too - a comment from the Video's maker, Geologic:
"So there you have it:
An Indonesian, who can read the local papers is saying that Swissindo may be a scam. And they are reported to be taking money from people inside Indonesia - and promising huge returns. This would explain where Mr Sino got the money to stage the conference. And it would also explain why all the photos and youtube videos talking about Swissindo, are so very valuable to Mr Sino and his team.
They act as "bait" to catch some bigger fish. Perhaps the Indonesians think, if all these wealthy foreigners are flying in to attend conferences, and are putting up well-produced videos on Youtube, then maybe Mr Sino really has the big money that he claims to have. That's what the unfortunate dupes may be thinking.
There's a real irony here. People like Ron Van Dyke are claiming that they want to help the world. But instead, they may be making it easier for a clever con-artist to dupe his victims. How very sad this story may turn out."
Haha.
What was that scam in 1972-film The Sting called? 'The Big Carni' or something?
The idea was to create a show, an off-track illegal horse betting club, and make it look real. Then the punters would put up their money, expecting easy gains. But the game was rigged. And so before anyone could collect their gains, the phony scam fell apart.
Is that where Swissindo is headed?
A sad thing is that those being used as Window Dressing and the Dupes who are putting up the money are different people. So the dupes are being fooled by people with genuine intent. The obvious "good intentions" of so many of the foreign delegates makes the scam seem more believable to the real marks.
People need to learn to exercise better discernment. And they need to learn not to be used by greedy people who disguise their real intent, packaging them inside of impossible plans that claim they will help the people of the world.