Quatloos! > Investment Fraud > HYIP & Bank Debentures > Exhibit: Quatloosian HYIP Programs
The programs which follow offer only the freshest-cut, deepest discounted bank debentures, treasury securities, and mid-term notes. These are sure-thing, can't-miss programs that are backed by our Prime Banks, and in many cases the Federal Reserve and Lloyds of London. But please keep all of this a secret: The Government doesn't want you to know about these programs that will make you rich just as they did they did the Morgans and Vanderbilts of the world. Hey, you don't even have to give these programs your money, just deposit it in one of the Prime Banks and it will be completely safe. It's only because of the offshore off-balance sheet financing that you have to put any of your Quatloos up (and even they aren't at risk, as these programs are 100% risk-free and guaranteed to be successful). And we promise you that the people who run these programs are one of only six people in the world who can make these trades happen. So invest early, and invest often.
How do we make money? Easy! We only one a lousy one (1) Quatloo for every million Quatloos that you'll be making on these transactions. That's a low margin, but we figure with these high-paying, sure-winners you'll be making so much money that we'll be able pick up a couple of hundred thousand Quatloos here and there.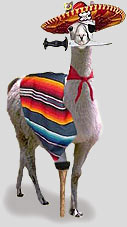 Have a question for Quatloos?
Ask
Tony-the-Wonder-Llama
Example of a Spam Prime Bank Scam Solicitation
U.S. Department of Justice Explanation of Prime Bank/ High-Yield Investment Schemes
Securities Fraud Stock and Bond Fraud, including Boiler Rooms / Pump and Dump Schemes, Mutual Fund & Hedge Fund Fraud, FOREX scams, plus Churning, Private Placements, Venture and Bridge Funding, IPOs, Viaticals Fraud, HYIP and Prime Bank scams, MTNs, Historical Notes, Recovery Schemes, etc.
We do NOT spam. Various multi-level marketers & other criminals have recently sent out spam impersonating us, & having our return email address, so that people would complain about spam and cause us to be shut down (a/k/a "joe job"). These multi-level marketers and other criminals have engaged in this form of cyber-terrorism because our telling the truth about their fraudulent schemes was hurting their ability to sell to new victims. Fortunately, our ISP now recognizes that these fake spams are bogus and ignores them, and additionally we are duplicating this site on numerous other servers (including "hardened" servers as well as our own proprietary servers) so that we cannot be harmed by these multi-level marketers and other criminals. Death to Spammers!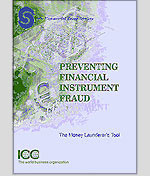 "Preventing Financial Instrument Fraud" -- prepared by the ICC Commercial Crime Services, the anti-crime arm of the International Chamber of Commerce. This unique reference guide uncovers the mysterious world of High Yield Investment Programs (HYIP) and Financial Products such as Letters of Credit, Bank Guarantees, CD's, Safe-Keeping Receipts and more as used by Fraudsters. By Jon Merrett and Paul Renner