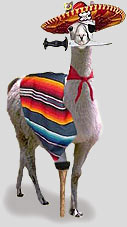 Have a question for Quatloos?
Ask
Tony-the-Wonder-Llama
Promoters Admit Guilt
US Attorney's Press Release
Latest Stupid Omega Rumors More Stupid Omega Rumors
Letters from the insane
The Omega Chronicles
NESARA Scam
Jennifer Lee Updates
Dove Updates
Deep Knight Report (parody)
Prosperity Programs - NESARA: Open discussion forum about NESARA, Dove of Oneness, Patrick Bellringer, Truth Warrior and all the others spinning the NESARA tale. Includes the latest rumors about the Galacticans comings to Earth and Jennifer's blood ozonation machine.
"To the multitudes of investors who sent him money, Clyde Hood's promises of low-risk, high-return investmensts must have sounded like the answer to their dreams. Now Hood is headed for prison, and the money is mostly gone." ~ Shane Trisch, False Profit, Chicago Magazine
Shane Tritsch's article
"False Profit" recites the bizarre story of the retired electrician who held himself out to be one of the world's top financeers in the process of fleecing tens of millions from tens of thousands. A "must read" for those interested in the Omega saga!
Snared by a cybercult queen - Sean Robinson; The News Tribune
Up against 'the dark agneda' - Sean Robinson; The News Tribune
Fake Nation - Yet another fake nation scam is the so-called Independent Sovereign State of the Principality of Camside, which claims that it is the true owner of Australia.
Mother Sekhmet vs. Tony-the-Wonder-Llama
NESARA Interview with A & A From Mysteries Of The Mind Talk Radio
A&A 11-3-02 Recording A Message From Father Alcyone
A&A's "Real" Creation Story, a history of the Nebadon Universe and the Sol Sun System
A Message From Lord Sananda To The People Of Planet Earth
Part 1 | 2 | 3 | 4
Most Bizarre Recording in the History of Humanity?
An Afternoon With Mother Sekhmet
Part 1 | 2 | 3 | 4