"The amateur web is a noisy place with a lot of static -- and some gems. In the gem category falls Jay Adkisson's www.quatloos.com" ~ "Build Your Own Soapbox" by Seth Lubove, Forbes Best of the Web, September 11, 2000, at p. 31.

"Quatloos is the perfect place to start when faced with an investment proposal that sounds too good to be true" ~ OnlineInvestor, November 2000 edition, at p. 84.

"Besides being fun to read, these stories of pecuniary high jinx will fine-tune your bullshit detector." ~ Playboy, July 2001.

Church of the Mighty Flatulence
Brad Christensen's latest exchange.
(NEW: May 11, 2007)

The Princess and the Porcupine
Brad Christensen's recent exchange.
(Updated May 09, 2007)

Tax Haven Abuses: The Enablers, The Tools and Secrecy


Asset Protection Group Scam Federal Trade Commission shuts down Asset Protection Group, Inc., and has it placed into receivership for a franchise scam involving convicted felon Rick Neiswonger


Private Annuity Exhaustion Test Kevin McGrath Article on Private Annuity Sales and the Exhaustion Test Raises Issues for Private Annuity Trusts


Paperwork Reduction Act Decision Judge Egan's decision to dismiss Springer's complaint in Lindsey K. Springer v. U.S., the IRS and Commissioner of the IRS

Over the years, Brad Christensen has been deluged with every type of "URGENT" offer imaginable from Nigerian scam artists. Finally, he decided to fight back by conning the con men. With humor and imagination as his weapons, Christensen preyed on the scammers' abundant supply of greed and ignorance, taking our 419 friends for quite a ride, and always at their own expense. What follows are some of Christensen's more recent creative exchanges

General Fraud
Tax Scams
Investment Fraud
Quatloosia!
Quatlosers
Law Enforcement
Discussion Forums
Stuff to Start With
New Articles
Quatloos.com is a public educational website maintained by Financial and Tax Fraud Education Associates, Inc., a California non-profit company that has received a Determination by the U.S. Internal Revenue Service that it qualifies as a § 501(c)(3) exempt organization.
Quatloos! covers a wide variety of financial scams, including wacky "prime bank" frauds supposedly involving $100 Billion dollars investments that you can buy for a mere $100, exotic foreign currency scams claiming 80% per week returns, and many forms of offshore investment frauds. Quatloos! also warns about many types of tax scams, including claims that payments to the IRS are voluntary or that the income tax is unconstitutional, to "Pure Trust" structures that purport to be financial black holes but in reality will win you an extended stay at Club Fed.
For more about Quatloos! click here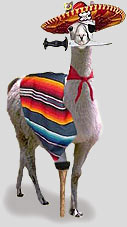 Have a question for Quatloos?
Ask
Tony-the-Wonder-Llama