March 2018
Asset Protection Group Scam
Federal Trade Commission shuts down Asset Protection Group, Inc., and has it placed into receivership for a franchise scam involving convicted felon Rick Neiswonger
Accounts Receivable Financing Scams
In the last several years, numerous account receivable financing programs have been created and they all have their quirks and variations. But the theme is still the same...
Stokes v. Commissioner
In a case involving the National Association of Financial and Estate Planners, the court held that the private annuity trust in that particular case "constituted a sham trust that lacked economic substance". Not only did Mr. Stokes not receive the promised tax benefits, but he also got slammed with an accuracy-related penalty!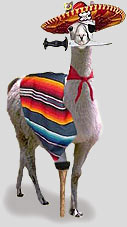 Have a question for Quatloos?
Ask
Tony-the-Wonder-Llama
We do NOT spam. Various multi-level marketers & other criminals have recently sent out spam impersonating us, & having our return email address, so that people would complain about spam and cause us to be shut down (a/k/a "joe job"). These multi-level marketers and other criminals have engaged in this form of cyber-terrorism because our telling the truth about their fraudulent schemes was hurting their ability to sell to new victims. Fortunately, our ISP now recognizes that these fake spams are bogus and ignores them, and additionally we are duplicating this site on numerous other servers (including "hardened" servers as well as our own proprietary servers) so that we cannot be harmed by these multi-level marketers and other criminals. Death to Spammers!