Quatloos! > Tax Scams > Tax Protestors > Anti-IRS Theories > New and Articles
January 2018
xelan
Are you a physician? Do you need a tax break? How about some financial planning? Need something really special that you canít get anywhere else?

Treasury News Release
Treasury and IRS Issue Guidance on Intercompany Financing Through Partnerships
(April 1, 2004)
IRS News Release
Treasury and IRS Issue Guidance on S Corporation, Tax Exempt Entity Transaction
(April 1, 2004)
Tax Shelter Remediation
Discusses what you can do to get out of an abusive tax shelter and includes questions answered by a licensed tax attorney regarding tax shelters and remedies against promoters of tax shelters.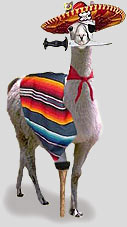 Have a question for Quatloos?
Ask
Tony-the-Wonder-Llama
Tax Protestors, Pure Trusts, and Other Stupid De-Tax Schemes & Scams
Have a stupid theory why you shouldn't have to pay taxes? 861? Non-Filer? Sovereign Citizen? Believe that the federal courts are actually admiralty courts or that the only real citizens of the USA live in Puerto Rico, Guam, and the District of Columbia, then this forum is for you.
Tax Practice & Policy and Tax Shelters Practical and Practice issues for Professionals who practice in the area of taxation. Moral, social and economic issues relating to taxes, including international issues, the U.S. Internal Revenue Code, state tax issues, etc.
We do NOT spam. Various multi-level marketers & other criminals have recently sent out spam impersonating us, & having our return email address, so that people would complain about spam and cause us to be shut down (a/k/a "joe job"). These multi-level marketers and other criminals have engaged in this form of cyber-terrorism because our telling the truth about their fraudulent schemes was hurting their ability to sell to new victims. Fortunately, our ISP now recognizes that these fake spams are bogus and ignores them, and additionally we are duplicating this site on numerous other servers (including "hardened" servers as well as our own proprietary servers) so that we cannot be harmed by these multi-level marketers and other criminals. Death to Spammers!