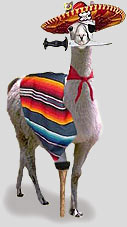 Have a question for Quatloos?
Ask
Tony-the-Wonder-Llama
Financial Firm Files Chap. 11 Bankruptcy Xelan's tax shelter draws IRS attention
Report of investigation of Enron Corporation and related entities regarding Federal Tax and Compensation issues.
Tax Protestors, Pure Trusts, and Other Stupid De-Tax Schemes & Scams Have a stupid theory why you shouldn't have to pay taxes? 861? Non-Filer? Sovereign Citizen? Believe that the federal courts are actually admiralty courts or that the only real citizens of the USA live in Puerto Rico, Guam, and the District of Columbia, then this forum is for you.
Tax Practice & Policy and Tax Shelters Practical and Practice issues for Professionals who practice in the area of taxation. Moral, social and economic issues relating to taxes, including international issues, the U.S. Internal Revenue Code, state tax issues, etc.